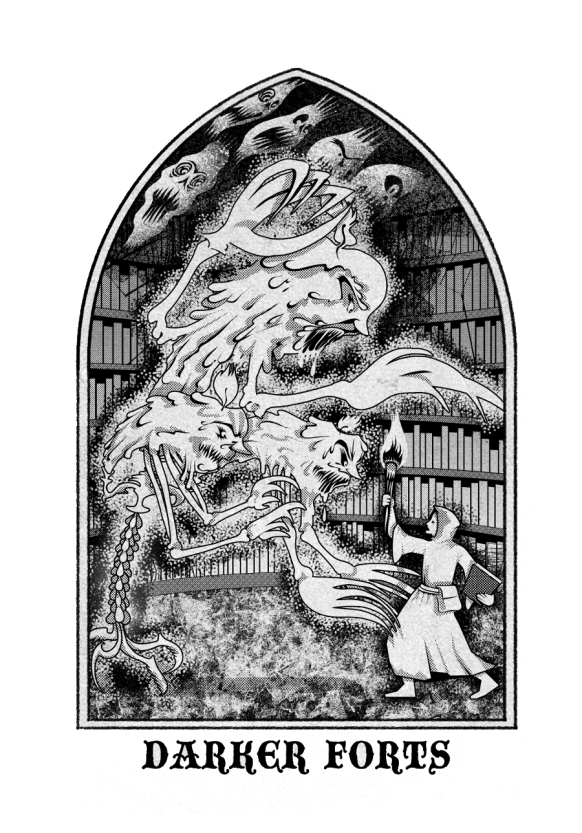 DARKER FORTS
A downloadable series of forts
DARKER FORTS adds THREE new dungeons and accompanying characters to DARK FORT, including and limited to:
KLORT the scholar, stumbling haphazardly into the ghost-infested MANSION OF DOOM
KRENSK the bruiser, dashing through the malodorous streets of the GRIMEFUL CITY
KERWYN the cleric, cleansing the demons now residing in the DEFILED TEMPLE
These forts include 36 new monsters to die to, 18 new scrolls to not use until it's too late, and a plethora of new items and weapons which, let's be honest, you'll probably drop down a sewer grate or something after getting beaned in the back of the head with a lead pipe.
Get out there and "dark" a "fort"!
DARKER FORTS is an independent production by Donovan Caldwell and is not affiliated with Ockult Örtmästare Games or Stockholm Kartell. It is published under the MÖRK BORG Third Party License.
MÖRK BORG is copyright Ockult Örtmästare Games and Stockholm Kartell.
Purchase
In order to download this series of forts you must purchase it at or above the minimum price of $6.66 USD. You will get access to the following files: